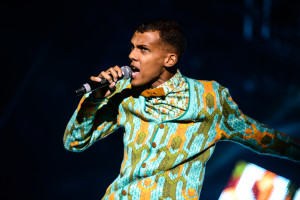 This week I needed a quick lesson for my French 4/5 class.  I was being observed by the professor from the college from which my students earn dual enrollment credit, so I wanted to create a lesson that allowed my students to show their communicative abilities in a subject that would be of high interest to them.  Because they were familiar with Stromae and the animated video for Carmen had recently been released, I decided to develop a lesson around this song. Here's the document that contains the materials for this lesson: Carmen
I introduced the lesson by projecting this infographic which explains various social media in terms of hamburgers.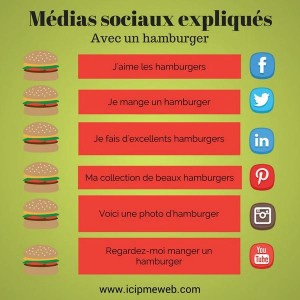 After a quick discussion of the image, I had the students discuss their experience with various social media in small groups, taking notes so that we could then have a short whole class discussion.   Next, I passed out three different infographics showing the role of these social media, especially Twitter, in France.  I designed a task in which the students would discuss similarities and differences between French and American culture in regards to Twitter, but this was difficult, as the students didn't have the same type of statistical information for their own culture.  I would amend this part of the lesson by either providing some American statistics or changing the task completely.  I do think, however, that it is important that the students have some background knowledge about the use of Twitter in France in order to understand the theme of the song.  In addition, this information was a good resource for the upcoming AP test.  At the end of the period we had just enough time to watch the video.
When I continue this lesson tomorrow, I'll begin by playing the second video so that the students can see Stromae singing the song.  As they listen, they'll fill in the graphic organizer with their thoughts and reactions to the song.  Then I'll pass out the lyrics and have them discuss the vocabulary, key verses and theme of the song.  Lastly, they'll write additional verses for the song.