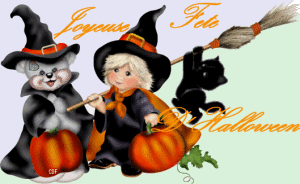 Happy Halloween!
Although I've embraced many aspects of middle age, I'm still a kid at heart when it comes to celebrating Halloween. In spite of the fact that my husband and I have been empty nesters for several years, our house is the most decorated one on the block, and we're more excited than most children when we choose our costumes each year. Fortunately, most of my students get as excited as I do about Halloween, so I make sure to set aside a week or so each year on Halloween-themed activities. Although most of my authentic texts come from children's books and magazines that I can't share, here are a few activities that some of you might be able to use.
1. Vocabulary List & Flashcards Vocab_list & flashcards
This document includes the vocabulary list that I hand out with pictures and words, as well as the pictures without the words. I printed 30 copies of this version on tagboard several years ago and cut each one apart so I can hand out a baggie of picture cards to each student for review games such as Bingo, Memory, and Go Fish.
2. Vocabulary Review Worksheet Vocabulary review (novice)
I've used this worksheet with French 2 students. Although the "choose the word that doesn't belong" format is traditional in nature, it does encourage interpersonal communication when students are allowed to work in small groups.
3. Same/Different Pair Activity Halloween same_different
I think I got a little carried away when I made this one up! (I could have probably stopped after the first 10 pictures, but I was having too much fun!). To use this activity, you will first have to cut the table down the middle (or reconfigure the table), and number each picture (1-25). The first column is given to Partner A and the second column to Partner B. The pairs must discuss their pictures in order to decide whether they have the same or different picture for each number. (I have them write #1-#25 on loose-leaf and write Même or Différent next to each number).
4. Halloween Videos Halloween Videos
On this document I've included English comprehension question for several Halloween-related YouTube videos. Included are two stories (L'Ogre qui avait peur des enfants and Franklin fete l'Halloween) as well as two news videos. I have used these videos with French 3 students.
In addition to these activities, my students will read authentic stories (titles depend on the proficiency level), and the French 3 students will read authentic articles about the history of Halloween, bats, and spiders.
I'd love to hear back from those of you who incorporate Halloween into your lesson planning. What resources have you used with your students?