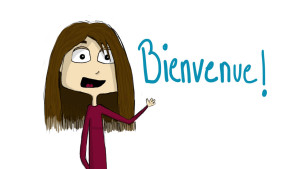 In conversations about Integrated Performance Assessments, my fellow teachers often share their concerns about using authentic texts with beginners. There seems to be a widespread belief that true beginners cannot derive meaning from texts created by native speakers for native speakers. I hope that these assessments, which will be implemented during the unit I shared in yesterday's post, will demonstrate that even Novice Low learners can read and listen to authentic texts when the tasks are designed to correspond to their proficiency level.
As I explained in yesterday's post, I created two separate IPA's for this unit.  As often happens in real-life school settings, instructional decision-making is influenced by many factors.  Because this unit will not yet be completed before the interim progress report grades are due, I prepared a short IPA to be administered after about three weeks of instruction.  This assessment will provide information to my students and their families regarding their ability to use their brand-new language skills in an authentic context.
IPA #1 (Revised 9/14/2015)
As you can see, I did not follow the exact order (Interpretive-Interpersonal-Presentational) that is recommended in designing IPA's.  In this case I used an alternative format to better meet the context of the assessments, which was a visit to a Francophone school.  Therefore, in this IPA the students will first listen to an authentic video about holidays and then read an article about France from an authentic children's magazine (Les Pays…08082015) Next, they will respond to a note from a student in the class.  Lastly, they will answer the school secretary's questions.  Although all of my previous IPA's have incorporated student- to-student interaction for the interpersonal task, I will play the role of the school secretary in this instance, as the Novice Low ACTFL Can-Do's reflect the students' ability to introduce themselves at this level, but not to interview others. This is the "secretary's" script:
Bonjour.
Comment ça va?
Tu t'appelles comment?
Comment ça s'écrit ?
Tu as quel âge ?
Quelle est la date de ton anniversaire?
Merci, Bonne journée.
Au revoir.
IPA #2 (Note: the video used for the listening assessment is no longer available, but a search on "Mes fournitures scolaires" on Youtube might provide a similar video. Edited 9/21/19: The text for my original IPA is no longer available.  However, Stacy Nordquist has generously shared a similar IPA that she created using a recent school supply list: IPA   List
In this summative assessment for the unit, I continued the context by explaining that the students were now preparing for their first day of school in their temporary home in Morocco.  Before the first day they will 1)Read the school's list of required supplies (Interpretive Reading), 2) Listen to a video in which a student presents her school supplies (Interpretive Listening), 3) Discuss their school supplies with a neighbor (Interpersonal Communication) and 4) Make a list of school supplies they need to buy (Presentational Writing).
As shown in the tentative agenda I included in yesterday's post, I will administer a quick formative assessment after each lesson.  These quizzes are designed to assess the extent to which the students are able to identify new vocabulary words.  Any student who is not successful on any of these quizes will be given an opportunity to receive additional instruction and retake the assessment. As with the first IPA, the red text is teacher script and will not appear in the student copy.
Image Credit: http://claire-mangin.eklablog.com/