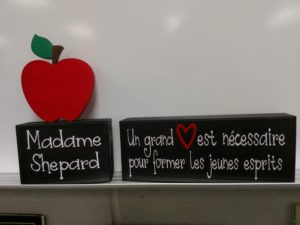 As some of you know, I have decided to transition out of the classroom at the end of the school year. (The photo shows a lovely gift from a student in honor of my retirement.) This was a difficult decision to make and I will miss my students enormously. There are many reasons why I've chosen this, my 29th year, to be my last. My grandsons, Oli (born April 25, 2017) and Remy (expected July 8, 2018) are two of the most important ones! (Yes, both my son/daughter-in-law and my daughter/son-in-law have been kind enough to provide me with a baby boy to love on in the past year!)
Although I will no longer have a classroom of my own, my passion for the work of language teaching has not waned in the slightest. I am still passionate about educating and I still plan on completing numerous detailed and structured courses for teachers. I cannot imagine a life in which I am no longer creating lessons, collaborating with colleagues and providing professional development to other language teachers! It would be painful having to give up my lives work when I really don't have to! Therefore, I'm happy to announce my next venture, Shepard World Language Consulting, LLC. I have already been invited by several districts to provide professional development and revise curriculum over the next few months and am so excited about this new chapter in my professional life!
I still plan to maintain this blog and will add posts when I have ideas to share. In fact, I hope to add some lessons that I created this spring when I have some time off later in the summer. I do want to let my readers know, though, that I will soon lose access to my Google Drive at school. I have been busy making copies of my materials on my personal account, but it may be some time before I am able to recreate the agendas with hyperlinks to the new copies of each resource. My suggestion to all of you is that if there is anything on the blog that you would like to use, please make a copy of the Google Docs as soon as possible. (Word documents that I created before June, 2016 will not be affected.) Thank you for your patience as I work to update the last two years' work over the next few months!
Bon Courage to those of you that are in the final stretch of this school year and Bonnes Vacances to those of you who are enjoying some well-deserved rest and relaxation. Please keep in touch if you have any questions on anything that I've shared here, or if you'd like to schedule professional development or curriculum revision in your district.
Happy Summer!