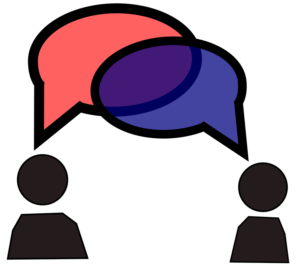 As described in a recent post on unit design, I generally introduce an interpersonal task after the interpretive task in the lessons I create. Over the years I've been fortunate to have attended multiple workshops on communicative speaking activities presented by brilliant educators from whom I've borrowed the following ideas.
Novice Activities
Because learners at this level are highly dependent on memorized language, I incorporate a lot of interpersonal activities that will help them commit vocabulary and structures to memory through lots of meaningful repetition. Although I don't assign a vocabulary list to memorize or assess vocabulary out of context, I do provide students at this level with a resource guide to scaffold these tasks.  
Matching

As this example from a lesson on daily routines shows, this activity requires students to take turns describing pictures in order to determine which picture on their partner's paper matches each of their own. ( I usually have the students prepare a grid on a separate sheet of paper to record the matches, so that I can reuse the picture papers.) This is what a sample conversation might look like:
Partner A: #1. C'est un garçon. Il fait ses devoirs.
Partner B: Il a beaucoup de livres?
Partner A: Non, il fait des maths.
Partner B: Il mange son crayon?
Partner A: Oui, il mange son crayon.
Partner B: C'est lettre A. (Both students will write A next to #1 on their papers)
The students tend to really enjoy this activity and usually remain on task as I circulate to provide oral feedback on their conversations. As a follow-up formative assessment, I sometimes select a few of the pictures to describe to the students, who write the number or letter of each picture that I describe.
Guess Who

In this activity one student selects an identity from the page without telling their partner whom they have chosen.  Their partner then asks yes/no questions in order to use the process of elimination to determine their partner's identity.  The students then switch roles.   Here's a sample conversation:
Partner A: Tu prends le petit déjeuner?
Partner B: Oui, je prends le petit déjeuner.
Partner A: Tu te lèves?
Partner B: Non, je ne me lève pas.
Partner A: Tu t'habilles?
Partner B: Non, je ne m'habille pas.
Partner A: Tu te réveilles?
Partner B: Oui, je me réveille.
(Conversation continues until partner A has used the process of elimination to determine their partner's identity.) I suggest requiring the students to ask at last 8 questions before they guess an identity. As a follow-up formative assessment, I sometimes select an identity and ask several true/false questions. Use the same clipart as I included in the resource guide so that there is no confusion about what activity the pictures are depicting.
Same/Different

Although this activity looks similar to the Matching one, it is quite different.  The object of this one is to determine, starting with #1, whether your partner has the same or a different picture.  The students then write

Même

or

Différent

on their paper. It's important to let the students know that their pictures will be quite similar and that they'll need to ask several questions before making up their minds whether the pictures are the same or different. Here's a sample conversation:
Partner A: Sur mon #1 il y a une lune et des chauve-souris.
Partner B: Moi aussi. Est-ce que la lune est derrière les chauve-sours?
Partner A: Oui, la lune est derrière les chauve-souris. Tu as combien de chauve-souris?
Partner B: J'ai 10 chauve-souris.
Partner A: J'ai 12 chauve-souris. Alors, c'est différent.
Suggestions:
Placing the handouts in page protectors allows the students to use dry erase markers to cross out pictures as they match them (Matching) or eliminate them (Guess Who).
I usually change activities as soon as the first pair finishes the Matching and Same/Different Activity–it is not necessary for everyone to finish.  The students can play the Guess Who game several times in a row, however.
Pair Crossword Puzzles

In this activity, each partner is given a crossword puzzle with either the vertical or the horizontal responses filled in. The students then circumlocute in order to help their partner complete his/her puzzle. Although I use this activity more often with intermediates, this one worked with my Novice Mids because of the relatively formulaic phrases that could be used to circumlocute.  Here is a sample conversation:
Partner A: #1, c'est le mois avant octobre.
Partner B: Ah, septembre. #2, c'est le numéro entre quatorze et seize.
Click here for directions on using puzzlemaker.com to create these activities.
Scaffolded Discussion

.In addition to the games described above, I have the students practice a lot of interviews to prepare them for their IPA. In this example, 

I've scaffolded the task by providing both the questions and possible responses.

Friendship Circle

In this example, the students will check the statements that describe their typical morning activities and then ask their partners whether they do each activity they have checked. After their partner responds, both students will write a sentence in the appropriate section of the diagram. (I find that the students can write more neatly in this modified form of Venn diagram.) Note: The students should be reminded NOT to ask a question about the activities they haven't checked, as there is no place in the diagram to note activities that neither partner has done. The recovering grammarian in me loves this activity as it gives the students an opportunity to use the 1st person singular, 2nd person singular (in the questions), 3rd person singular AND the 1st person plural form of the verbs!

Speed-friending

.

For this activity I have the students arrange their desks in two long rows, facing each other.  They then have 3 minutes to ask the person in front of them the questions they have written down (as well as answer the questions they're asked). When the timer goes off, everybody in

one of the rows

moves one seat to the right (the last student goes to the beginning of the line). They then ask their next partner the same questions and note their responses.  After 3 minutes, the same students move another seat to the right (the other row never moves).  I find that the repetition really helps the students start to internalize the questions (a difficult structure) in preparation for the IPA.  They are also often excited to do the follow-up presentational writing where they ask to stay with the student with whom they had the most in common.
Intermediate Activities
I'd love to add more variety to my interpersonal activities, so please share some of your favorites!