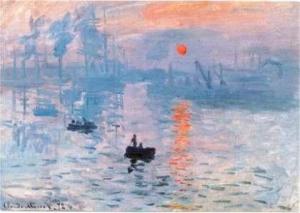 My French 3 students have spent that past couple of weeks becoming experts on French Impressionism!  This unit always ranks as one of their favorites mostly because they love learning about something that is so relevant to their daily lives.  During the short time we spent on this unit, a student had a question about Paul Cezanne on a televised In the Know match and another went on a field trip to a local museum where she saw a copy of the same Degas sculpture she had just watched a French video about.  A third student recognized Starry Night from the French classroom in Morocco where she previously lived. Many students even have prints of Impressionist paintings in their homes, which further sparks their interest in learning about these artists. With all of these personal connections to the content, this unit is bound to be Impressive (Sorry, I couldn't resist!) !
I began this unit by introducing the students to the characteristics of Impressionism.  I did this with a short presentation using a Powerpoint and guided notes. I seldom use this strategy, but it worked well here and provided important background knowledge regarding the content and vocabulary for the unit.
Click here for a link to the Google Presentation I made of the Powerpoint: https://drive.google.com/file/d/0B7WIyIS2LD5zQkc4N1ZtQzhYV2M/view?usp=sharing (  the presentation includes a variety of paintings that we used to practice identifying the painter later in the unit) and here is the handout for the guided notes: notes_2014
After this presentation, each student was given was given two paintings and asked to choose which one of the two was an example of Impressionism.  While I have sometimes used postcards of the paintings, this time I prepared a Google Presentation with slides of the paintings.  Click here for the presentation.
https://docs.google.com/presentation/d/1IRWCD19PmHY5aU5teC2wbgDpZUyj7U81JLJtFUWvtsA/edit?usp=sharing
Each student was assigned one of the slides (each of which contains one Impressionist painting and one non-Impressionist painting).  They then used Ipads to access the slideshow and find their slide.  Next they took notes about the subject, style, composition, use of color, etc. to support their choice of which of the two paintings was Impressionist.  On the following day I projected the slides and the students explained to the class (in French, of course) which of the two paintings on their slide was Impressionist and why they thought so.  Everyone chose the correct painting!
Now that the students understood the basic ideas of Impressionism, I wanted them to learn background information about the most well-known artists, as well as how to identify their works.  I again used a Powerpoint presentation and guided notes to present a few details about several different artists.  Then, on each of the next seven days we studied a different Impressionist or Post-impressionist painter. During the class period the students completed a variety of activities designed to use different modes of communication to become familiar with the lives and works of the artist of the day.  These activities included:
A video about a work by the artist which they listened to and completed a comprehension activity.  Here are the links and comprehension questions I used: Listening Assessments
A variety of interpersonal speaking activities which required the students to describe various paintings by the day's artist. The students work in pairs to complete these activities and I circulate among them giving feedback on their language and ensuring that they are on task. These activities included:
Same/Different-Student A and Student B were each given 10 postcards featuring the artist's paintings. These are glued to a large blank index card so that their partner cannot see the title on the back of the postcard and both sets are labeled #1-10. The students begin by discussing their respective card #1. Their goal is to decide whether they have the same painting or a different one for #1, and they write Meme or Différent on the handout which accompanies the activity.  They continue until they have described all 10 paintings and identified whether or not each one is the same or different. Because so many Impressionists painted the same scene multiple times, I was able to select paintings that were quite similar to each other for the "Différent" ones. This required the students to be very detailed in their descriptions and there was a lot of fabulous negation of meaning during these activities!
Matching – Student A and Student B each have a large card with stickers of the same Impressionist paintings. Student A has a number written under each painting.  Student B has a letter under each painting—the paintings are not in the same order (#1 is not "A").  The students must describe each painting and then his/her partner will tell him the number/letter of the corresponding painting on his/her card.  This is what a set of cards looked like: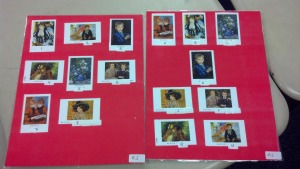 What's missing? – Student A and Student B each have a coloring book page of an Impressionist painting on which I have whited out various items. They must describe their paintings to each other and record which objects have been whited out from their copy of the painting.  Here's an example: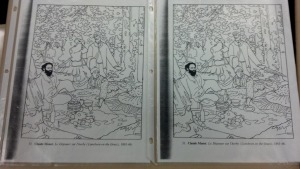 While I have purchased postcards and stickers over the years, the same activities could be prepared using color copies of the paintings from the Internet.  Likewise, Google Images has many coloring pages of Impressionist paintings.  Although the vocabulary and structures required to complete these tasks are not especially sophisticated, the students make great strides in fluency as a result of these activities.
An interpretive reading activity of some kind. In some cases, the students read authentic articles I have taken from French children's magazines. When I don't have an article about the artist of the day, the students read a biography of the artist and complete a graphic organizer with information about the artist.  To add an interpersonal element to this activity, I have two different articles about each artist, and distribute a Partner A article to half of the students and a Partner B article to the other half.  After they have completed the graphic organizers with the information from their own article, the students are paired with a classmate who had the opposite article and they discuss their information.  During this discussion, each student adds additional information to his/her graphic organizer.  Here are the biographies I used for these tasks: A/B Biographies and here is the graphic organizer: artistgraphicorg
After our seven artist days, I took a day to review with the students what they had learned.  I divided the students into groups of four, and each group was given a set of painting postcards.  They had to identify the artist and record their response on a handout.  After 5 minutes, they rotated stacks with another group, and continued rotating until every group had identified every painting.  I then held up each postcard and had the students shout out which painter had painted it.  Although the students always think this task will be "impossible," they do amazingly well!  I follow up this activity with a quick game of Powerpoint Jeopardy and they are ready for their IPA ipa
For the Interpretive Reading section of the IPA the students read an article about Impressionism from a children's magazine (art p. 1, art p. 2,  art p. 3) and are assessed using an (ACTFL template) comprehension guide.  Due to time constraints—I need to finish this unit before Thanksgiving Break—I am not giving them a separate Interpretive Listening task on this IPA.  Instead, I will use scores from their artist day activities.  For the Presentational Speaking task,  I will randomly select a painting and ask the students to tell me who they believe painted it and why.  I will not include an Interpersonal Speaking task on the IPA, but I did assess them on this mode during the artist days.  Lastly, for the Presentational Writing task, I have given them the situation in which they found a painting in the thrift store and believe that it was painted by an Impressionist.  They must write a letter to the Musée d'Orsay in which they describe the painting and explain why they believe it was painted by that artist.  The students will not know ahead of time which painting they will be given, so they will be assessed on being able to identify the artist, as well as their language use.  Although I won't give the speaking and writing portions of the IPA to this group until Monday, my students have traditionally done very well on these tasks.
I'm always looking for new ideas to incorporate into this unit, so please share your comments and suggestions!