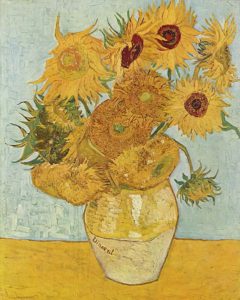 As I promised in my previous entry, here's a quick post with the materials and resources I used to introduce three post-impressionist painters (Van Gogh, Gauguin and Cezanne) to my students.
As shown on this agenda , my students completed the following learning stations for each artist:
Listening Comprehension:

The students completed Edpuzzles for each artist.  At the Cezanne station they also listened to a song and fill in the blanks with the missing words. In addition, they completed a vocabulary matching activities using context clues.

Interpersonal Speaking:

The students completed the same types of activities, using manipulatives I'm not able to share, that I included for the first group of artists.

Reading Comprehension:

Rather than the true/false questions I created for the first group of artists, I created a crossword puzzle for each post-impressionist based on the encyclopedia article.  As you will see, the students must first answer the questions (which are written in the same order as they will appear in the article) before checking the puzzle clues for the correct location for each answer. (Let me know if this doesn't make sense.  It's a little confusing, but it would have been very time-consuming for the students if the questions weren't in order.)
After the learning stations for each of these three post-impressionists, the students spent one day on a cooperative activity to review the seven artists we studied in this unit.  For this activity I prepared 8 baggies, each of which had a painting for each of the 7 artists.  The students worked together in groups of 3 to identify which painting in the baggy was by each artist and filled in the artists' names on this form. They rotated the baggies until each group had completed each of the 8 activities.  Since I used postcards that I have collected over the years, I'm not able to share this activity, but it could easily be replicated using Google Images.
I've also included the IPA on the last slide, which I've slightly modified from the original version. For this assessments the students will read a children's magazine article about Impressionism, write a letter to the Orsay describing a painting they "found" (I give them a random paining postcard) at a thrift store and then present their painting to an administrator at the museum.  I definitely think this IPA could use some modifications to make the tasks more authentic, but given the demands of my current school year I made do with what I had–There's always next year!