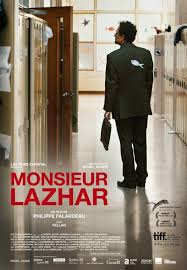 When a colleague told me that she thinks this is the hardest part of the school year, I readily agreed with her. As she said, all of the materials and lessons that we created over the summer have been implemented, and we don't have nearly enough time to develop the ideas we have for our current units. With winter break still several weeks away, we're forced to "fly by the seat of our pants" all too often.
For my Advanced French students (Level 4/5 combined, AP class), this meant that they watched Monsieur Lazhar with very little preparation. I had never taught the film before, and just didn't have the time to prepare the introductory materials that would have enhanced their background knowledge of the film's setting, themes, etc. However, they were very moved by the film and we had great discussions throughout the week we spend viewing it. After which I administered the following IPA: MLazhar
In the interpretive listening task, the students watched a video and completed the multiple choice assessment. I continue to be challenged by writing this type of assessment. While I don't think this is the best way to assess listening comprehension, I feel compelled to prepare the students for the AP exam. As always, I would be grateful for any feedback that those more experienced with the AP test can provide. Because my students received dual enrollment credit from a local college, I have only had a couple of students who have taken the latest version of the AP test, so I have not spent nearly enough time looking at sample exams. While I have tried to replicate the types of questions that they might expect to see (main idea, inference, language in context, etc.), I am not confident that I am getting it right. My students continue to struggle, and I'm wondering whether my questions are too difficult or if they are just not yet proficient enough for the texts that I am choosing.
In the interpretive reading task, the students read an interview with the director of the film. Again, I did my best to write an AP-style multiple choice assessment. I actually had a student who achieved a perfect score on this one. Whoo-Hoo! He is, of course, a genius and probably one of the most gifted students I've ever taught. Many other students did very well, too, although I noticed that there were more errors at the end of the assessment. I'm not sure whether the questions were more difficult or if their brains were just exhausted and they started to shut down.
In the interpersonal communication task, the students practiced each of the role plays with a partner, and then I randomly chose pairs to present one or the other to me. (They did not have the same partner with whom they had practiced.) These went well, although I need to remind them to incorporate more detail from the film in their role plays.
In the presentational writing task, the students wrote a letter from M. Lazhar to the school board, asking for his job back. I chose this prompt in order to focus on the future tense after a few students requested specific review on "verbs." Although I had not planned on focusing on specific grammatical structures in this course, I felt it was important to consider the students' requests in this case. I can't offer any information about how they performed on this task, as they wrote them with substitute teacher this week and the papers haven't yet made it to the top of the "Grade me" folder, but there were no complaints upon my return. No news is good news!
I'd love to receive feedback on this work, please leave a comment!