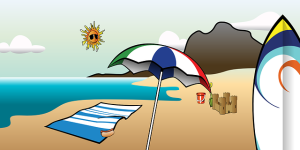 As promised in an earlier post, I've prepared an IPA for the vacation unit I developed for my French 3 students.  Before administering the IPA, though, I want to make sure that my students are prepared for the types of tasks they'll be asked to perform.  Therefore, I've created a series of learning stations (Vacation Stations) that the students will complete during the four days preceding the IPA.
Listening Station: At this station the students will watch a series of videos related to the theme of vacation.  The videos I've selected include both cartoons, similar to those that the students watched during the unit, and news stories like those they will hear on the IPA.  I got a little over-enthusiastic while I was working on these stations, so I ended up with more comprehension activities than my students could possibly finish in a 48 minute period.  I'll probably assign a few of the videos as homework instead, as I think the more listening they do, the better!  Note: If you use these listening comprehension tasks as written, you need to add additional spacing for the responses.  After creating these questions, I decided to make multiple choice quizzes on Canvas for these activities, so I have not included the spaces here.
Reading Station: At this station the students will read an article from 1jour1actu (connais-tu-lhistoire-des-grandes-vacances-en-france). Because the interpretive reading activities during the unit were infographics, I wanted the students to prepare the students for the more challenging reading (also from 1jour1actu) that they will read on the IPA.
Speaking Station: Here the students will interview the other members of their station group about their summer vacations.  This activity will give the students lots of practice asking and answering the questions they will need on the interpersonal task on the IPA.
Writing Station: At this station the students will write an essay about their real or imaginary vacation. It is my intention that the feedback they receive from me on this assignment will increase their success on the presentational writing task of the IPA.
After completing these stations, and receiving personalized feedback, these students should be ready for this IPA (IPA )in which they:
Read an article (Moins de vacances) about the history of summer vacation in France
Watch two news videos about summer vacation
Interview a partner about a real or imaginary summer vacation
Write a blog post about an imaginary summer vacation
My students have done a great job on the first two lessons of this unit and I'm looking forward to seeing them demonstrate their progress on this IPA!